Release of 2016 Graduate Resume Book of MBA Programs - "The Talent Code"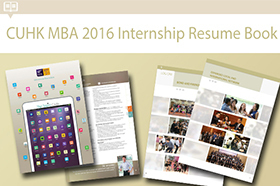 The
Career Management Center MBA Programs CUHK Business School
proudly presents the 2016 Internship Resume Book. Our theme this year is "The Talent Code" reflecting the diversity, internationalization, expert domain knowledge and professional qualities of our up and coming MBAs. At CUHK MBA, the transformation of our students builds through the journey of stimulating internships, international case competitions, real life business case, and other invigorating and demanding projects.
As Employers and Alumni members, we welcome your interest and enquiry for recruitment of CUHK MBAs for full-time and/or internship positions. In addition to the hardcopy Internship Resume Book, the E-version is also available for our environmentally friendly employers.
Requests for resume books can be sent to the Career Management Center
here
. Recruiters may also register through the
Online Career Center
to access the talent search engine and discover more about working with the CUHK MBA Career Management Center for your essential talent acquisition needs.
About a hundred of CUHK MBA students and recent alumni together with recruitment consultants had a memorable and enjoyable evening to celebrate this festive season. Students also expanded their network during the event.


The event was held at a restaurant in Admiralty with a great view of the CBD of Hong Kong on Dec 10. Working alumni shared their experience with current students, their support and legacy are always celebrated and appreciated. We wish them all a wonderful holiday season.
Taiwan Business Field Tour 2015
The trip was kicked off with a company visit in Aeroland UAV at Tainan. Students then had a visit to Asia University in Taichung on Nov 30.They all enjoyed the lectures and cultural sharing with students from Asia University.
Another highlighted event was the 'Social Entrepreneurship Forum' on Dec 2. We were honored to have Dr. Michael LEE, Vice President of International Affairs of Fu Jen Catholic University, to hold the forum; Mr. Ray CHEN from B Current Impact Investment and Prof. Chong-wei LIN from Taiwan Smart Life Improvement Association to be our speakers.
This year, CUHK MBA students had their study trip in UCLA Anderson School of Management in the US. Through the lectures of the Professors in UCLA, case discussion and company visits, our students have gained more insights into developing new products. They were also inspired by the Dean's Distinguished Speaker, Mr. A.G. Lafley, President & CEO, Procter & Gamble in his sharing of pricing strategies.
Chow Tai Fook Factory Tour
CUHK MBA Luxury & Marketing Club and CSR Committee organized a field trip to Chow Tai Fook Factory in Shunde on Dec 18. Students had a chance to learn the rigorous production procedures of jewelry and gold.
They had also taken a tour of Chow Tai Fook history in the Cultural Centre

.
Chow Tai Fook puts emphasis on CSR. Students and the speaker had a lively discussion about Chow Tai Fook's CSR work in China.
The 6th RSM Private Equity Competition
On Nov 21, our students, Adam Yi, Alex Yang and Lan Tian, are selected to represent CUHK MBA to participate in the 6th RSM Private Equity Competition in Amsterdam, the Netherlands. MBA students from top business schools such as LBS, IMD, and HEC competed for the championship. As the only team from Asia-Pacific, our students demonstrated quality pitch to judges from European PE funds, and were invited for Hong Kong PE branch visit, even though rounded out of the finals.
Celebrate the MBA's 50th Anniversary Happy Hour
Date:
Jan 12, 2016 (Tue)
Time:
7:00pm - 9:00pm
Venue:
Liberty Exchange Kitchen & Bar, Central
To celebrate the 50th Anniversary of CUHK's MBA Programs, you are warmly invited to attend our HAPPY HOUR on Jan 12 ─ a fantastic opportunity for current MBA students, MBA alumni and faculty members to get together and build new connections! Share a superb evening with our exclusively invited alumni spanning a wide range of industries and positions. Drinks, snacks and an exciting Lucky Draw await you! Please click here for more details or register here now!
LinkedIn Workshop Aims for Business Success
Date:
Jan 21, 2016 (Thu)
Time:
7:15pm - 9:15pm
Venue:
The Collab, 24/F, 303 Hennessy Road, Wanchai
How can you actually use LinkedIn to generate revenue for your business? There are many ways you can use LinkedIn to identify and engage with decision-makers at your target companies, source new business and present yourself as a thought-leader and opinion-former to your clients. In this workshop, Mr. Steve Bruce, Managing Director of SB Consulting, will demonstrate to you many effective strategies that you can use to leverage the power of LinkedIn in this competitive world. Please click
here
for more details or
register now
!