Sandro Kündig, Switzerland
Full-time, Class of 2020
Pre-MBA:  Deputy Managing Director, Kündig Group
A Swiss man who knew little about the Far East, Sandro was Deputy Managing Director of his family-owned food company before doing his MBA degree at the CUHK.  He was looking for a whole new world of experiences which will help him get fresh insights on the development plans of his family business.  He deems pursuing further education on the other side of the world to be a strategic move – an initiative that will sharpen his personal skills and throw some light upon how businesses operate on the other side of the world.
But why the CUHK MBA?  "I'm particularly impressed by its competitive edge over similar programmes in the realm of entrepreneurship.  It takes a holistic view and looks at different aspects of running a business. Studying at the CUHK also serves as a very useful stepping stone for me to understand Mainland China, a huge market that everybody wishes to unlock its rich potential," he explained.
Sandro finds the one particular management course for which it was set as a management game where students work in different teams to manage a company for a week, the most useful and inspiring from the perspective of an entrepreneur. "We took on different senior management roles that required us to apply everything we learnt in class.  It was gruelling but highly rewarding!" In his opinion, collaborating with team members from diverse backgrounds is the best way to brush up one's communication skills and to learn how to deal with people having different cultures and work practices.
"As I used to work in my family business, I didn't have this kind of exposure before," said Sandro.
Family Business is another signature course that he finds especially relevant as it enables him to develop a better understanding through case studies of how family businesses operate in the "Asian" way and given the fact that family businesses are quite common in Asia, the practical case studies and putting their causes of successes and failures under scrutiny provide a sound basis of comparison for Sandro to review his own company.
The young entrepreneur admits that local connections will bring enormous benefits to his business and he is grateful that he has somehow achieved what he has set out to do.  The strong CUHK alumni network exposes him to practitioners of the food industry, including Campbell Soup China's former CEO from whom he has drawn much inspiration for running a company on the Mainland.
Sandro also praises the many group activities that have helped strengthen his abilities to get along and cooperate with people from all walks of life, and the most remarkable one is the Social Enterprise Challenge where his team Wisole finished 1st runner-up out of 160 teams. "We did sales pitching, presented to the panel twice and worked on how to sell a company!  It was great that we managed to achieve something from scratch!"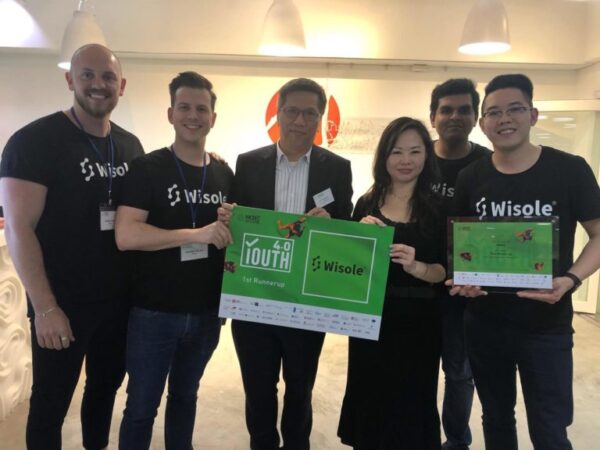 Sandro will soon complete his MBA studies and return to Switzerland, assuming the role of Managing Director of his family business.  He sees going after an MBA in Hong Kong the best choice he has ever made.
Sandro will be going home with a full bag of ideas, improved cultural understanding and more sophisticated leadership skills!   He is compiling a list of items and innovative ideas that he has come across during his MBA days so that he can constantly remind himself of the importance of applying what he has learnt here.