MBA Information Session & Sample Class – The Core Concepts of Money and Capital Markets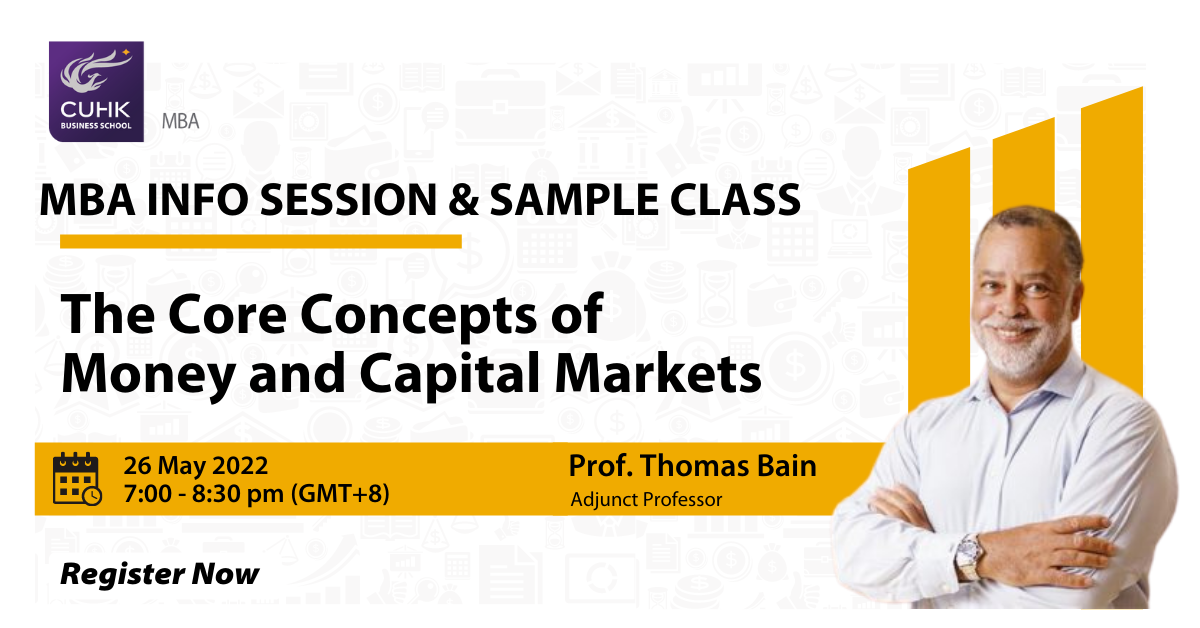 Capital markets are crucial to fueling economies. It deals with current evolving trends happening in the world. By learning about capital markets can give you a better understanding of what is going on in the news and how it relates to and impacts the market. It takes skill and experience to navigate the complex markets, but it is essential for everyone, from those who want to make smart financial decisions to those aspiring professionals hoping to further their career in financial services.
Join the Sample Class with Prof. Thomas Bain on 26 May, to learn more about "Money and Capital Markets", to review the four main asset groups: Stocks, Bonds, Foreign Exchange, and Commodities. During the session, Prof. Bain will discuss the impact of the latest economic and geopolitical events on each of these asset groups. You will be able to experience how the curriculum can help you sharpen these skills for your future career.
Prof. Thomas Bain has over 25 years of experience in the banking and financial services sector. He has worked at firms such as the Central Bank of the Bahamas, JP Morgan, and Barclays Wealth. He has worked for a number of years in Nassau, New York, London, Tokyo, and Hong Kong.
You will also get an overview of our MBA curriculum, admissions process, scholarships, and career support, and much more. Sign up now.
---
CUHK Business School was the first in Hong Kong and in the region to offer BBA, MBA and EMBA programmes, with over 40,000 alumni worldwide. We are a global institution that embraces innovation, nurtures entrepreneurial mindset and promotes social responsibility. Leveraging on our deep connections to mainland China, especially the Greater Bay Area, we actively contribute to the social and economic development of this region.
CUHK MBA Programme is the longest established MBA programme in Asia, with over 7,000 alumni. Finance and technology, entrepreneurship & innovation, comprehensive career support, and a profound global alumni network are CUHK MBA Programmes' pillars and we are constantly seeking out and encouraging new ways of learning, thinking and engaging with the community, as a humanistic spirit has been one of CUHK's core values.