4 reasons why you should consider CUHK for your MBA degree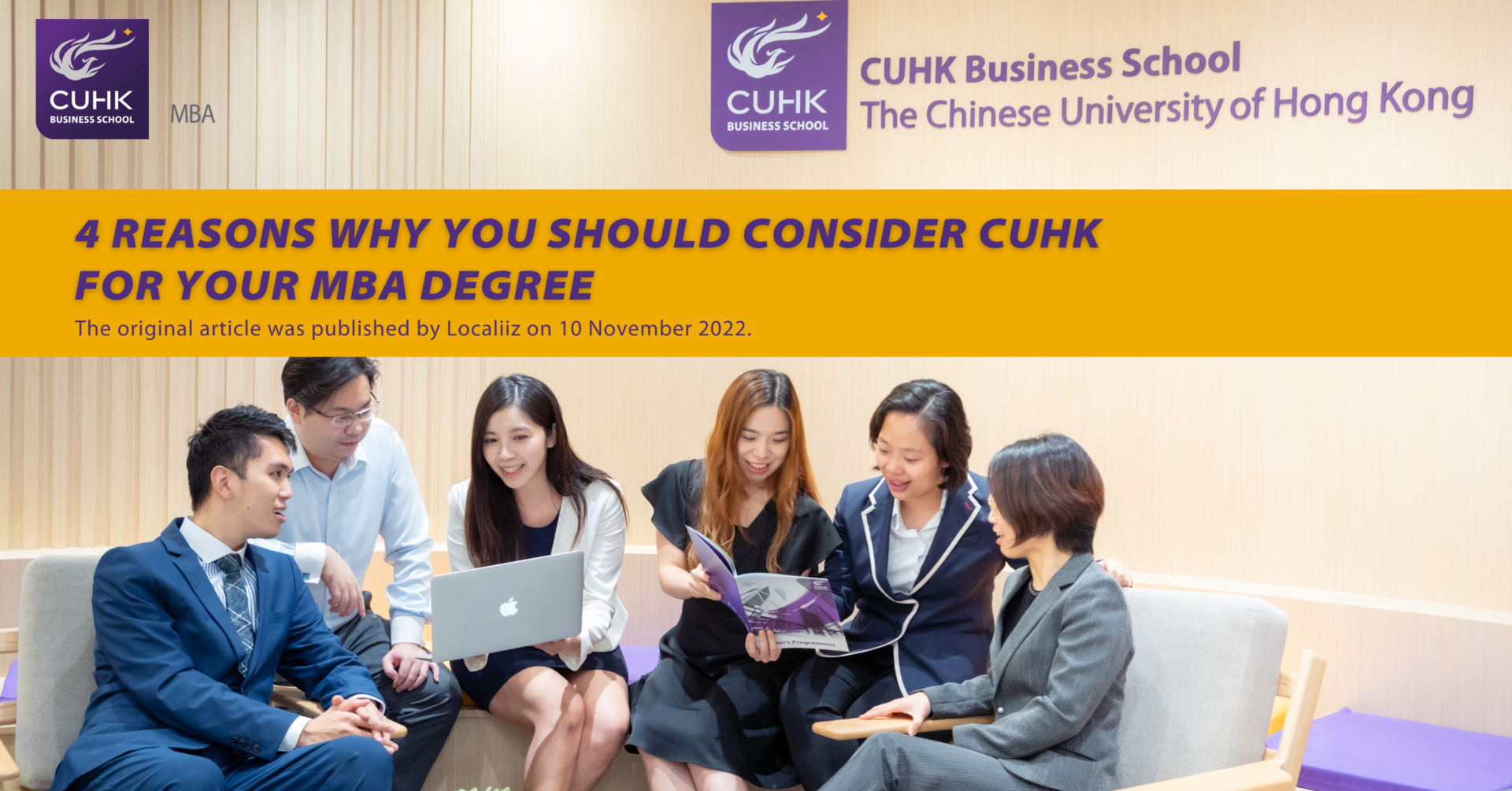 Are you looking forward to the next chapter of your career after your early working experience? You may want to consider taking your career a step further and launching into graduate studies to climb up management positions. When looking for a great school, we have plenty of choices here in Hong Kong, and even more so when it comes to what degree to take on.
This is where the Chinese University of Hong Kong's MBA programme comes in. It has a transformative and flexible curriculum tailored to fit your career aspirations, extensive alumni network, and various entrepreneurial opportunities.
Getting an MBA builds your leadership skills and business principles, which are beneficial no matter the career you take on later in life, especially in today's competitive market. Read on for the reasons why CUHK's MBA programme should be your top choice.
1. A world-class programme
CUHK's MBA programme is a pioneer in Asia, being the first to be offered in the region. In fact, the Financial Times ranked it in the Global Top 50 MBA Programmes in 2022. It also scores first in salary percentage increases in Hong Kong.
The MBA programme also boasts an extensive alumni community across various industries, seniorities, and geography. It takes home the top spot in the QS Global MBA Rankings 2020 when it comes to entrepreneurship and alumni outcomes in Hong Kong.
Aside from the curriculum, you can also take advantage of CUHK's standing and prestige, as it is currently ranked as the eleventh-best university in Asia, and thirty-eighth in the world according to the QS World Rankings. As of 2013, four Nobel Prize laureates are associated with the university, making it the only tertiary institution in Hong Kong with recipients of the Nobel Prize, Turing Award, Fields Medal, and Veblen Prize as faculty in residence.
CUHK MBA HKSTP Visit
2. Career advancement opportunities
The programme is a great choice for those looking to lead, thanks to its transformative MBA experience with a flexible curriculum. Students can choose between six optional concentrations, such as business analytics, entrepreneurship and innovation, finance and information technology management, marketing, or China business. This allows students to tailor their MBA education to a specific area, ensuring that their interests are met.
Business analytics helps to prepare students in making data-driven decisions and how to use data for business insight and predicting market changes. The entrepreneurship and innovation concentration is the first of its kind offered in Asia—it helps students embrace entrepreneurship, innovation, and agility, and prepares them to become visionary leaders.
CUHK MBA Microsoft Office Visit
Meanwhile, the information technology management area allows students to learn and make use of cutting-edge IT skills and data to develop effective business strategies. Finance is all about financial skills, with a focus on analytical and critical thinking which are essential for growth in a competitive work environment.
The marketing concentration is best suited for those with an interest in managerial marketing and big data marketing as well as those looking for strategic marketing knowledge and business negotiation skills. Last but not least, the China business concentration enables students to master business knowledge in China.
The 12- or 16-month (for full-time studies) or 24-month (for part-time studies) MBA study course also makes sure that students are equipped with insights into Asia as well as topics that are relevant in today's digital age, including fintech, AI, big data, and more. Students also have the chance to choose elective courses in other areas they are interested in, which are not limited to business management.
CUHK MBA Networking Event.
3. Gaining international exposure and career support
While students will receive their education in Hong Kong, there is a range of exchange programmes, study tours, and field trips that offer international business learning experiences. These informative opportunities allow students to gain real-life exposure and first-hand insights that will not only be helpful in their studies but also in their careers.
Thanks to the MBA programme's extensive alumni network, students will benefit from ample support from CUHK when they start their entrepreneurial adventure. Consider the elite mentorship programme, which offers career guidance and showcases success stories. Students will be matched with elite industry practitioners who are CUHK alumni and senior executives of reputable companies. Its 6,000-strong alumni across 40 countries have the longest history and the largest network in the city.
In addition, students can consider taking on dual degree programmes and gaining experience overseas, such as at the prestigious HEC in Paris, the University of Texas in Austin, or the Rotterdam School of Management, Erasmus University in the Netherlands. There are also unique advanced study options available including the JD/MBA programme, which equips students with essential legal and business knowledge for leadership roles in just 36 months. Another option is the MBA-plus degree. Students can earn one more MSc/MAcc degree with less time and tuition.
4. Scholarships
There is a wide range of merit-based scholarships available to outstanding students. This includes the CUHK MBA Excellence Scholarship which is awarded to candidates with decent academic performance. Assessment is based on solid academic and professional achievements and the performance of the interview, as well as students' potential contributions to cohorts. The largest amount of scholarship funding is equivalent to the full tuition fee of the programme. It is always better to apply early to maximise your chance of getting the scholarships.
Interested to join an elite community and take your career further? If you are already considering CUHK's MBA programme and want to learn more, be sure to join the MBA Experience Day on December 3.
During the event, CUHK welcomes interested candidates and early working professionals, faculty members, alumni, and current students to join in a variety of activities! These include experience-sharing sessions and masterclass tasters. Grab the chance to network, discuss, and discover how the programme fits your profile and goals. Click here to register!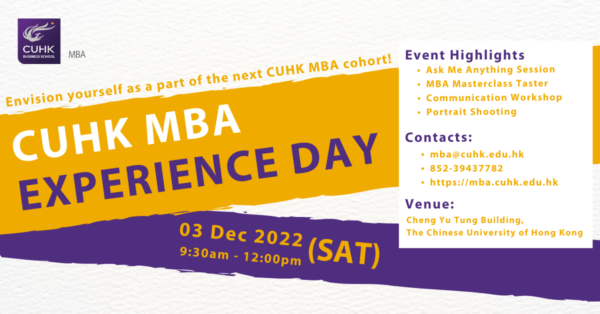 The original article was published by Localiiz on 10 November 2022.