Legal Knowledge with Business Sophistication
The JD/MBA Programme is jointly hosted by the CUHK Faculty of Law and Business School. It is designed to nurture a new generation of business professionals who also understand the constraints and opportunities of business law, an increasingly coveted trait across a wide range of leadership roles in Asia.
Graduates of the JD/MBA Programme earn both a Juris Doctor (JD) degree and a Master of Business Administration (MBA) degree, in a period shorter than the customary time needed to complete the two degrees consecutively.
Duration
Full-time: 36 months
Full-time Tuition Fees:
MBA Component: HK$428,000
JD component: HK$5,880 per unit for a total of 60 units within normative study period
---
Programme Structure
Students can typically complete the programme in 36 months. A total of 99 units of coursework is required.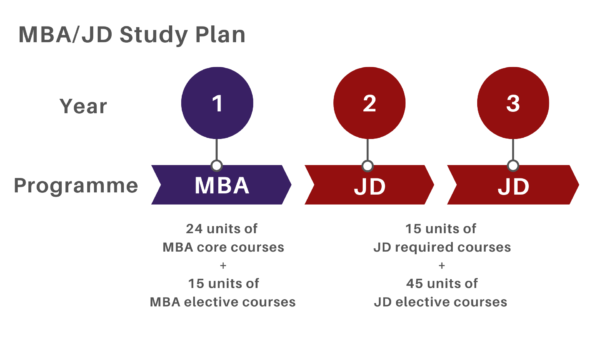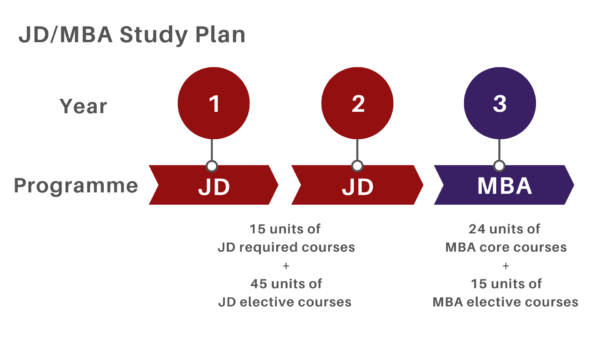 * Up to 12 units of MBA coursework are recognised toward fulfillment of JD requirements. Similarly, up to 12 units of JD coursework are recognised toward fulfillment of the MBA requirements.
Detailed study sequence for the JD and MBA Programmes.
---
---
How to Apply
Applications Deadlines:
| | |
| --- | --- |
| First Round: | 28 January 2022 |
| Second Round: | 25 February 2022 |
| Third Round: | 8 April  2022 |
Applications will be processed on a rolling basis until all places have been filled. Therefore, early applications are strongly encouraged. Applications submitted after the deadline may be considered, subject to the availability of places.
JD/MBA application for 2022 intake is closed.
Application Fees:
Full-time: HK$ 1,200
Application fees are non-refundable.
Payment Method
Credit cards as directed via our online application system.
* Above course offerings and course information are subject to change.