CUHK and Dongguan Municipal Government Discuss Collaborative Plans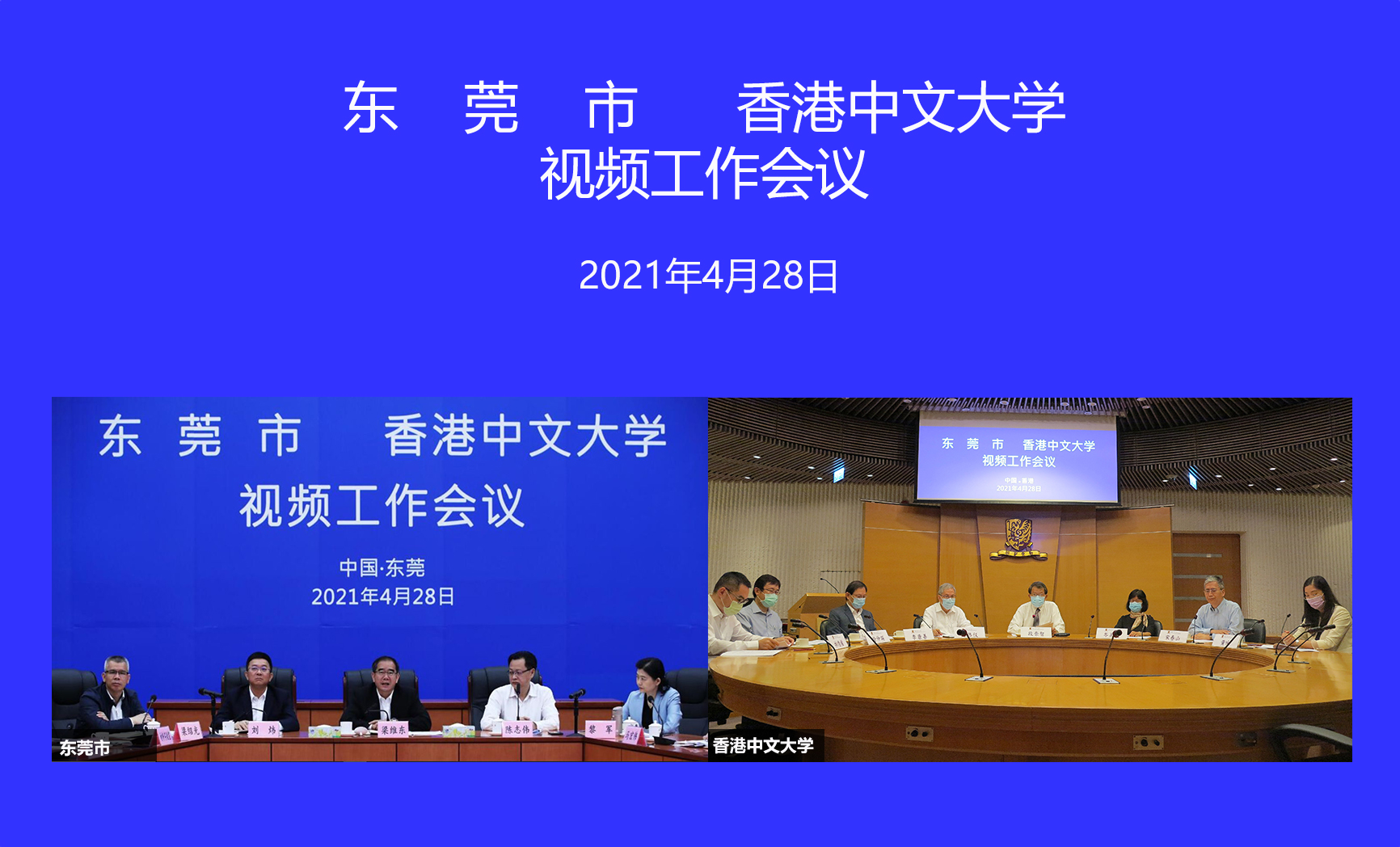 The Chinese University of Hong Kong (CUHK) met with Dongguan Municipal Government online on 28 April to discuss collaboration plans in leveraging the developmental opportunities of the Greater Bay Area. Mr. Liang Weidong, Party Secretary of the Dongguan Municipal Government exchanged views with Professor Rocky Tuan, Vice-Chancellor of CUHK and agreed to embark on all-round plan as an innovative model of Guangdong-Hong Kong collaboration. Government officials participating in the meeting included Mr. Chen Zhiwei and Mr. Liu Wei, Members of the Standing Committee of the Dongguan Municipal Government; Mr. Li Jun, Deputy Mayor of the Dongguan Municipal Government, and Mr. Ma Hongwei, President of the Dongguan University of Technology, together with members from Education and Science and Technology Bureaus. Professor Chan Wai-Yee and Professor Sham Mai-Har, Pro-Vice-Chancellors of CUHK; Professor Daniel HS Lee, Associate Vice-President; Professor Song Chunshan, Dean of the Faculty of Science; Professor Benny Zee, Director of Office of Research and Knowledge Transfer Services; Dr. Lin Huangquan, Director of the Greater Bay Area Development Office and Ms. Wing Wong, Director of Academic Links (China) attended the meeting.
The meeting discussed future development plans to promote research cooperation and in-depth exchanges. Professor Tuan expressed that CUHK has been actively participating in the development of the Guangdong-Hong Kong-Macao Greater Bay Area and it is hoped that with the research and innovation advantages, the collaboration plan will serve the major needs and strategic development of the country and the region to be supported by the establishment of a cross-border platform for knowledge transfer. Such collaborative projects will be able to facilitate the cultivation of international-level talents, promote resource sharing and talent gathering toward the construction of a comprehensive national science centre in the Greater Bay Area.